How to Choose the Best CMS Platform for Your Website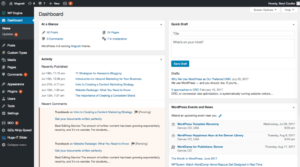 There are lots of different CMS platforms out there, so which one should you pick? Before you we jump to our CMS platform comparison, here is what you should look for in a good CMS.
Ease of use
You want a CMS that makes it easy for you to create and edit content. This often means having a drag and drop interface, so you can add different elements on your pages.
It should be quick and straightforward for you to make changes to the content on your site after publishing it.
Design options
Your CMS software should offer you plenty of website design templates to choose from. It should also allow you to easily customize those designs to your own requirements (ideally without writing code).
Data portability
A great CMS platform should have tools for you to easily export your data and move it elsewhere.
For instance, you may later decide to choose a different platform or a different hosting company. Data portability makes it easier for you to move around with complete freedom.
Extensions and addons
Not all websites are the same. This is why it is impossible for any CMS platform to come with all the features that would fulfill requirements for every website.
Extensions and addons fix that problem. These are separate software that you can just install on your CMS software to extend its features and add new ones when needed. Think of them as apps for your CMS platform.
Help and support options
Although CMS platforms aim to make building a website as straightforward as possible, you still might have some questions. Find out what help and support is available if you get stuck.
Some CMS providers will have a handful of FAQs and a customer service team that's painfully slow to respond. Others will have a big supportive community that can help you any time of the day or night.
How much does it cost?
Some CMS platforms are completely free. Others charge a monthly fee. Even with free CMS platforms, you'll often need to pay for third-party extensions, designs, and/or web hosting services.
Try to find out as much as you can about the pricing before you choose your CMS, so you don't have any nasty surprises.